Admissions
United States Supreme Court

State of Illinois

Seventh Circuit Court of Appeals

Trial Bar, United States District Court
for the Northern District of Illinois

United States District Court for
the Central District of Illinois

United States District Court
for the Southern District of Illinois

United States District Court
for the Eastern District of Michigan
Illustrative Representations
Directed all civil litigation outside of Illinois
for a national retail department store
chain headquartered in Chicago

Represented a major national auto parts chain in complex real estate litigation involving tortious interference with contractual easement rights

Represented a major asset, investment and pension fund management company and its real estate investment trusts in various civil disputes throughout the United States, protecting the integrity of its assets under trust
Defended significant private land owners in a Federal condemnation action authorized by Order of the Federal Energy Regulatory Commission

Represented an international air freight warehouse facilities company vindicating its rights against a former employee, including accusations of defalcation and violations of the Federal Computer Fraud and Abuse Act

Developed and administered the initial two phases of the City of Chicago's Adjacent Neighbors Land Acquisition Program
Professional Memberships
Chicago Bar Association

American Association for Justice
(formerly the Association of Trial
Lawyers of America

Illinois State Bar Association

Justinan Society of Lawyers

Italian American Political Coalition
Member, Board of Directors
Chairman, Judicial Advancement Committee
Attorney Profile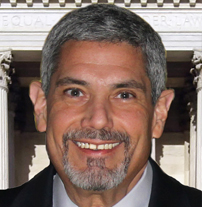 Richard M. Carbonara
Principal
RICHARD M. CARBONARA counsels Corporate and Commercial clients in a wide variety of discrete areas, including construction and real estate development, environmental law, product liability, internal corporate security and investigations, and governmental relations and representation, personally specializing in complex commercial litigation.
While in law school at Loyola University Chicago, Mr. Carbonara served the City of Chicago in the Real Estate Division of the City's Finance Department. Later, Mr. Carbonara joined the State of Illinois as an Investigator for the Office of the Illinois Attorney General. Upon professional licensure, Mr. Carbonara engaged in public civil litigation, enjoying extensive jury and bench trial work as an Assistant Illinois Attorney General, practicing in every Federal District in Illinois and in various county courts and administrative law forums throughout the State.
Contact Rick
Location
One Woodfield Place 701 East Woodfield Road, ,Suite 925 Schaumburg, IL 60173
847-209-0116
By appointment only.